SUPERVISION FUNDAMENTALS CERTIFICATION
Learn the skills to maximize your team's performance and cohesiveness
THIS CERTIFICATION Will help you
Improve Communication
Enhance Cohesiveness
Increase Retention
Maximize Team Performance
As a leader one needs to get work done through other people, by developing skills in effective delegation. This workshop provides participants with guidelines for delegation plus an opportunity to practice an effective assignment of a task. Participants then also learn the importance of "setting others up for success" by holding and communicating expectations for high performance.
After completing this session participants should be able to:
• Understand what skills are required for effective frontline leadership
• Recognize the importance of communications responsibilities and self-management
• Avoid "traps" that front-line leaders can easily run into
• Make better decisions about which work assignments to complete or delegate
• Effectively communicate expectations when delegating (setting others up for success)
• Foster buy-in to new ideas and change using techniques to prepare, present and sell
• Overcome resistance to change by being prepared for emotional objections
• Take steps to build their personal trustworthiness and credibility as a leader
Leadership Style and Versatility
Leadership means getting work done by influencing other people. Research shows that the most effective leader-managers have developed a specific set of influence skills: in Style Awareness and Versatility. During this program they learn about the strengths and potential blind spots of their own style and that of others. They also learn to identify other people's styles and how to adjust their style to relate more comfortably with others. A focus is placed on applying understanding of style differences and versatility to issues of supervision and leadership.
After completing this workshop participants should be able to:
• Identify two basic behaviors which create differences in social style/communication style
• Learn about four basic communication styles and their behavioral cues
• Recognize the strengths and potential blind spots of each style
• Adapt behavior to reduce tension and work effectively with others
• Apply understanding of style and versatility skills to supervision and leadership
• Use these new skills to work best with co-workers, managers, customers and suppliers
Conflict, Communication and Collaboration
Communicating and managing conflict are among the most important and challenging jobs of leaders. Participants become more aware of conflict management strategies and when each of them might be appropriate. Participants learn techniques for effectively raising issues with others and how to respond to defensive reactions. They also have the opportunity to practice collaboration skills (i.e. win-win problem solving and principled negotiation) through one-on-one skill practices and small group exercises.
After completing this session participants should be able to:
Prevent unnecessary/unproductive conflict at work through effective communications
Create an open communications environment
More consciously select the appropriate conflict management strategy to use
Effectively raise an issue with an employee, a co-worker or even their own manager
Respond to defense mechanisms and demonstrate active listening skills
Take a collaborative (interest-based/win-win) approach to resolving conflict
Mediate conflict between co-workers when necessary
Employee Performance Management and Coaching
Participants are introduced to an Employee Success Assurance Model, and tools for carrying out on-the-job training with structured checklists and job aids. They will practice setting goals, communicating clear expectations and constructive feedback. Tools for recognizing high performance are provided, along with low-cost means for rewarding employees. Participants will identify causes of performance problems and learn new coaching strategies for attendance and attitude issues. Likewise, guidance is provided for conducting coaching conversations and annual performance appraisals.
After completing this workshop, participants should be able to:
Plan for and conduct structured on-the-job training with employees
Provide clear expectations and goals for successful job performance
Sustain improved job performance through feedback and recognition
Identify obstacles to performance and job satisfaction
Plan, conduct and document employee coaching to address performance problems, work habit issues and employee performance appraisals
Maximizing Team Performance
Participants will learn both what gets in the way of teamwork, and what fosters teamwork. Exercises demonstrate how to align people around common goals, and clarify roles among team members. Participants learn how to build an environment that fosters creativity from all team members. Tools are provided for soliciting feedback from their teams on how well they are performing, and each student is encouraged to create an Action Plan for improvement.
After completing this Workshop participants should be able to:
Assess the effectiveness of a work team and have ideas for improvement
Utilize shared goals to encourage teamwork
Clarify team roles and responsibilities and foster effective communications
Use shared rewards and recognition to promote and reinforce teamwork
Know when to involve others in decisions that impact the team
Foster productive interpersonal relations among work team members
Overcoming Resistance to Change
Today's most successful companies are those that can change quickly. Yet, overcoming people's natural resistance to change is challenging. If your job or assignment involves getting people to accept and move ahead with something new and different, this workshop is for you.
Topics will include:
• What's behind typical human responses to change and how to handle those not-so-apparent factors?
• The surprising but most effective ways to guide people through transitions and help them return successfully to productive, committed work.
• A roadmap of steps and activities to guide people through transitions at work.
• Ways to support and encourage movement toward the goals and purpose of change at work.
I have been a supervisor for 7 years and found this certification very beneficial. I highly recommend this to anyone new to supervision or those that want to brush up on their management skills.
Meet Your
Instructors
Susan Lacasse
Susan LaCasse knows firsthand the challenges of creating a culture of continuous improvement and the leadership that significant culture change demands. Susan brings 25 years experience in driving change in a variety of project and leadership roles, including twice as an original "lean team" member.

Natalie Ackerman
Natalie has helped thousands of leaders over the last 14+ years learn skills and mindsets to become more effective and to reach their leadership potential. She has worked with manufacturing leaders at every level across a variety of sectors including industrial, food, precision machining, metal fabrication, and aerospace.

Jim Doyle
Jim Doyle blends his 25 years of experience and passion to help manufacturing leaders grow and achieve their goals. His experience working with team leads, plant managers, and executives has been applied to improve communication across shifts, increase employee engagement and more clearly define strategic issues and opportunities.

THE PROCESS TO BECOME CERTIFIED
Step 1

Enroll in Certification

Step 2

Complete training

Step 3

Apply what you learn

Step 4

Reach the next level
Become Certified
Live Online
Start Date: September 21, 2022 9:00am-12:00pm Live Online Via Zoom

In-Person
Start Date: October 5, 2022 8:00am-4:00pm Manufacturers Alliance Training Center

Custom
We customize training to fit your workforce needs, timeline, and improvement plans. This training can be done in-person or hybrid at your facility, or at our Golden Valley Training Center

Certification Cost & Requirements
Workshop Requirements
Complete the required workshops plus the Learning to Solve Problems coaching session. Participants must notify us two business days in advance if they are not able to attend a workshop or they will be invoiced the workshop fee.
Exams
After each required workshop, take a short online test to demonstrate comprehension of the material.
Projects
Submit two projects for review. This project will show benefit to a company by applying knowledge and techniques gained through coursework. The projects should focus on individual or team development.
Program Fees
The complete program fee includes required workshops, materials, tests, templates, and project validation.
Members: $2,100
Non-members: $2,500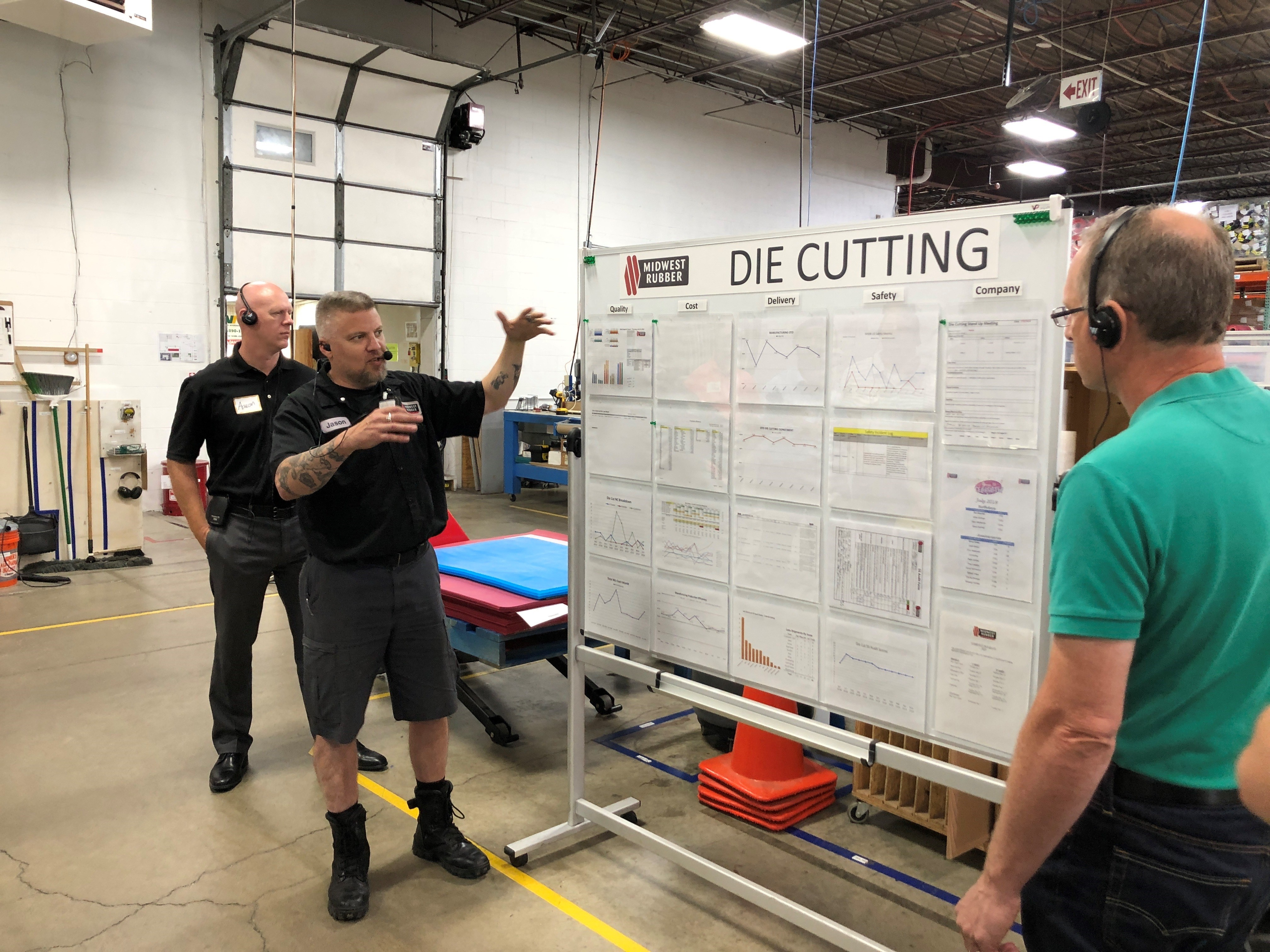 Frequently Asked Questions
What is the time commitment for the certification?
Workshops, project, and final presentation may be completed in 6-8 months
Who is this certification for?
Hi-potential individual contributors, team leads, supervisors, or new Managers
What happens if I miss a class?
We recommend attending the next available workshop
What types of projects will participants complete?
Click here to view a real-world project